How To Find A Good Painter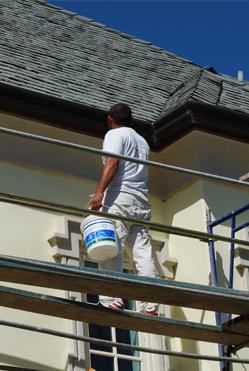 All you want is a good Atlanta house painter, someone who can do the job right, quickly, and for an affordable price. But these days, that's what they all claim. How are we supposed to tell a quality house painter from rest? There are numerous features that separate a good house painter from the rest, but there are only a few that you need to truly look at. Taking the time to check whether the painter you're thinking about hiring has these qualities will help you know whether you should hire them or not.
First and foremost, a good house painter will listen to you. The more they want to know about the job, the better. Let them know about your needs and wants for the job, what exactly you want done and how you want it to look. Being clear will help the painter do their job more efficiently, and a good painter will listen to your needs.
A good Atlanta house painting company will also be insured or bonded, and you should never hire one that isn't. Even if they may work for less, an insured or bonded painter will be able to pay for any damage to your home or property while they work. A good contractor is always prepared for situations like that while on the job, whether interior house painting or exterior house painting.
The last thing anyone would want is to be forced to deal with a difficult painter. A good painter will have a flexible schedule for you to work with, whether you want to be home while the job is being done or if you need to work. Being open for scheduling preferences, and able to work with your schedule, is one of the best indicators of a good house painter.
Finally, no one likes the surprise of a bill that is more expensive than what they anticipated. The last thing you want is to have to pay more when you were already stretching a budget. An honest painter will be up front about all costs, never including any hidden fees, and will present all the costs and charges to you before beginning the job. But a good painter won't just be up front about the cost, they'll be honest about the hours they intend to work, how and how long they'll prepare the room for painting, when they'll begin, and what their estimated finish date will be.
Looking for these key qualities will ensure than you find the perfect house painter for the job. Whether interior house painting or exterior house painting, a good painter will always listen to your needs, be insured or bonded against damages, have a flexible schedule, and be up front about all information.